Can 5G mmWave deployments be profitable? Yes! Says Bell Labs Consulting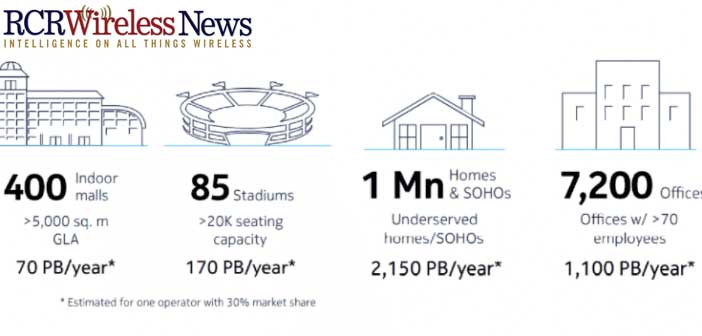 How do you confirm your gut feelings and logical reasoning? Well, you do a detailed techno-economic study and get a definitive answer. That's exactly what the recently published report regarding mmWave deployments from the consulting arm of the legendry Bells Labs achieved.
The report finds an estimated Return on Investment (RoI) of 20-30% with payback periods less than 4 years when used in the right deployment scenarios for the right use cases. What is interesting is most of the revenues to realize this impressive RoI was coming from consumers moving to higher-tier data plans, enabled by 5G, not relying on fancy applications such as AR/VR, Mission Critical Services, etc. Most of the global 5G operators are already seeing the data plan uplift.
Those fancy applications indeed have huge future potential, and any revenue and profit lift they provide will be above and beyond what the traditional broadband services can provide in the near term.
5G spurring another round of data consumption splurge
5G has enabled operators to offer extremely high and consistent data speeds and truly unlimited data plans, without any limits or throttling. That has resulted in a sharp increase in data consumption. Recently, T-Mobile's Neville Ray disclosed that their high-end 5G customers consume up to 35GB of data in a month, much higher than 4G users. Ericsson's Mobility report forecasts the average user data consumption in the USA to increase from 11GB in 2020 to 50 GB in 2026.
Operators are capitalizing on this surge by offering much pricier data plans and encourage consumers to upgrade to them. This also has become a lucrative primary monetization tool for operators to recoup their 5G investments. To keep up with this consumption surge and to maintain 5G's higher Quality of Experience (QoE), operators have to continuously increase the capacity in their networks. That means, adding more spectrum and sites. However, in extremely high traffic areas, the traditional Sub-6GHz band may not be enough to provide the needed capacity or to achieve the required site density. That's exactly where the mmWave bands come to play.
Key to mmWave success – right locations and use cases
The straightforward answer to the mmWave skeptics who often point out its small coverage footprint is—it's not coverage, but capacity! The report rightly points out the typical locations that they call "hot zones" and use cases that are a perfect fit for mmWave. These hot zones are extremely dense and high-traffic areas, whose capacity needs can't be met by the Sub-6GHz spectrum. During the study, Bell Labs Consulting identified numerous such zones in a UK operators coverage area, including, outdoor hotspots, indoor malls, stadiums, train stations, and more.

Deploying mmWave networks at these hot zones creates 4200 Peta Bytes /year mobile data traffic capture potential, 300 million Euros of incremental revenue potential, and 8% incremental revenue potential, according to the study.

Fixed Wireless Access (FWA) is another exciting opportunity for 5G operators. Although there was a dire need for alternatives to DSL and cable fixed broadband services for a long time, 4G was not viable because of its limited spectrum and capacity. 5G mmWave because of its large available spectrum and capacity, makes it a perfect FWA solution.
Why is just the sub-6GHz spectrum not enough?
One of the most asked questions, whenever I talk about mmWave is, why is not just the sub-6GHz spectrum sufficient? Well, the sub-6GHz spectrum is most essential for operators to have expansive coverage. However, it may not be sufficient to cost-effectively support this deluge of data traffic prompted by 5G, especially in the fore mentioned hot zones. The report makes this point succinctly through a cost/GB comparison between the two bands over four years. The mmWave deployments could be up to 75% cheaper in typical busy train station locations. This is because of the large amount of bandwidth available to carry the increased traffic. These estimates were based on a 400 MHz mmWave deployment. With many operators having access to as much as 800 MHz bandwidth, the difference could be even higher.
In many cases, the sub-6 GHz band will not be able to support such dense deployments, because densely deployed sites will interfere with each other, and adding more will not yield any increased capacity. However, the small coverage footprint of mmWave allows dense deployment with minimal interference.
Many people also ask, why not Wi-Fi be used in these locations. Well, Wi-Fi suffers from the same interference issue, as well as hand-off challenges, when users move between sites. Additionally, a dense Wi-Fi network has to implement complex frequency planning to be even functional.
Impressive RoI on mmWave investments
The report has RoI analyses for a score of use cases. The one that caught my eye was about outdoor hot zones, for example, shopping malls, stadiums, etc. It shows an Internal Rate of Return (IRR) of 33% after four years.
This is again mainly because of the huge amount of capacity that mmWave developments offer. Once invested, it can support a large amount of incremental traffic over the years without requiring more Capex infusion, while continuing to bring revenues.
The biggest value of this report to operators is its guidance on identifying the best opportunities for mmWave. The analysis indicates that hot zones with subscribers between 1,000 – 3000, and with 2-4 years of payback to be most optimal.
Although all the analysis in the report is based on the UK market, most of the findings are relevant and applicable to almost any advanced 5G market with similar demography, such as the US, Europe, Japan, Korea, China, and others.
Other considerations for mmWave deployments
There are many interesting use cases and considerations beyond what the report examined that further highlight the benefits of mmWave. For example, Samsung recently successfully demonstrated the use of mmWave as a backhaul for Wi-Fi on subways and trains. This increased the user speeds by up to 25 times compared to traditional means.
The mmWave deployments can significantly improve the uplink capacity, which is becoming a bottleneck when social media-obsessed smartphone users continue to stream, share and broadcast everything. Recently, Verizon, Samsung, and Qualcomm announced mmWave uplink reaching a whopping 711Mbps in a lab trial. This paves the way for taking 5G uplink performance to a whole new level.
As mmWave needs dense site deployment, there are many options for operators to cost-effectively achieve that density. For example, Integrate Access Backhaul (IAB) units with Interference Cancellation (aka SLICK) allow operators rapid deployment and solve the backhaul challenge.
Side Note: For more information on IABs, please check out my article series "5G Integrated Access Backhaul (IAB)."
In closing
The biggest reason for adopting mmWave bands is capacity, especially in high-traffic hot zones. While the Bells Labs Consulting report not only proves what is obvious but also provides a quantitative analysis to show an impressive 20-30% RoI, with less than four years payback period. Additionally, it offers guidelines on the most optimal opportunities for mmWave deployment.
For more articles like this, and for an up-to-date analysis of the latest mobile and tech industry news, sign-up for our monthly newsletter at TantraAnalyst.com/Newsletter, and listen to our Tantra's Mantra podcast.